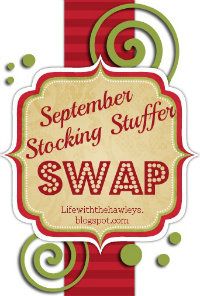 So I am very excited to have been a part of this fun blog swap! My friend Darby over at
Life with the Hawleys
started this swap to give everyone a fun way to pick up ideas for stocking stuffers this Christmas (don't you always find it hard to find gifts for the stocking?). The rule was your gift had to be under $25. Therefore, you had to get creative!
Anyway, I was paired up with a wonderful blogger from TX, Stephanie from
A Blessed Home
. After a quick peruse of her blog, I new exactly what to get her! You can check out her blog to find out what I gave her!
Her gift to me was sooooo wonderful! Here it is..
Isn't this just the prettiest gift ever?!! I can't express how much I love it. It is a sterling silver bracelet with a camera attached. As a photographer, this is such a precious gift to me. I love it so much, I am pretty sure I am not going to take it off...ever!
I am so glad I participated in this swap... and thanks to Darby at Life with the Hawleys for organizing it!